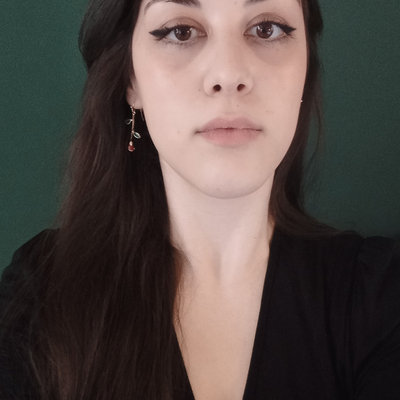 Σχετικά με το Filenia Pateraki:
My career journey has encompassed diverse roles, including customer service representation, promotional work, and hospitality management. These experiences have honed my adaptability and ability to thrive in dynamic environments.
Born in Greece in 2001, I've nurtured a passion for personal growth and skills development. This drive has led me to attain certifications in various fields, further enhancing my skill set.

I'm always eager to take on new challenges and contribute positively to any team or organization I'm a part of.
Εμπειρία

I've been a Front Office Manager, a Customer Service Representative at Callnovo, excelling in bilingual customer service, CRM management, and issue resolution. As a Distributor and Promoter at LedMarket, I effectively promoted products. I also have experience as a Babysitter, demonstrating responsibility and a passion for child development.
Εκπαίδευση
I hold a High School Diploma and have achieved a C2 Proficiency Diploma in English. Additionally, I've completed certifications in advanced agent skills and agent basics from Daktela Academy. My education reflects a commitment to language proficiency and continuous learning in the field of customer service.
Επαγγελματίες που ανταγωνίζονται το Filenia
Επαγγελματίες από τον ίδιο τομέα Εξυπηρέτηση πελατών / Υποστήριξη με τον Filenia Pateraki
Επαγγελματίες από διάφορους τομείς κοντά στο Athens, Νομαρχία Αθήνας
Θέσεις εργασίας κοντά στο Athens, Νομαρχία Αθήνας
---

Randstad Hellas

Athens, Ελλάδα

Πλήρης απασχόληση

Are you a native Hebrew professional ready to take your career to the next level? Do you consider yourself as a self-starter looking to expand your career in inside sales and account management? We wa ...

---

Blu Selection

Athens, Ελλάδα

Quality and Service is what it is all about in today's world for companies to remain competitive. From solving technical issues, providing product's advice, following up on logistics, having quality c ...

---

Randstad Hellas

Attiki, Ελλάδα

Πλήρης απασχόληση

Would you like to take the next step as a Commercial Manager? · Do you have experience in FMCG sector? · If the answer is yes, apply now for the Commercial Manager role · key responsibilities · Provid ...