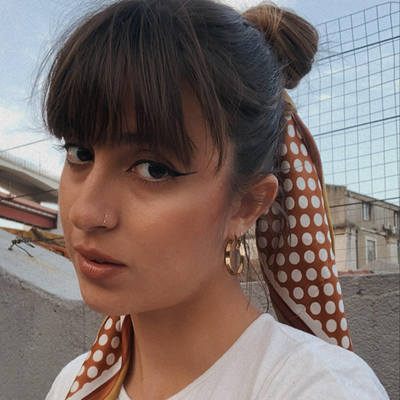 Σχετικά με το SOFIA KOUNALAKI:
I am Kounalaki Sofia.Im 21 years old. My nationality is greek.I was born and raised in Crete.Im currently studying International and European Financial studies with a major in marketing in Thessaloniki.Being communicative with social skills ,always with a smile and ready to help had always been my strengths.I am trained to work under stress and to handle peoples needs at all times.
Εμπειρία
Employee in the Marketing team of Active research and other promotion companies First job that got me evolved in the marketing area and fell in love with the processes and organizing campaigns.
The three different companies above that I worked for are based in differnet part of Greece: Heraklion, Thessaloniki and Athens
 Social media manager in Eduact Educational Robotic organization and an American Corner
In charge of making content every day in all the social media platforms.Promoting the organizations activities and fun spirit as well as being part of the marketing team in the greek finals of robotics
Walking tour guide and TUI airport representative
Εκπαίδευση
University of Macedonia International and European studies major in International businesses and marketing 2020-2025
Universidade de Lisboa semester in Law school 2023
Proficiency level of English
Delf B2 diploma of French 
Lifecoach seminar graduate 
Επαγγελματίες από τον ίδιο τομέα Μάρκετινγκ / Διαφήμιση / Δημόσιες Σχέσεις με τον SOFIA KOUNALAKI
Επαγγελματίες από διάφορους τομείς κοντά στο Thessaloníki, Dimos Thessaloniki, Θεσσαλονίκη
Άλλοι χρήστες που ονομάζονται SOFIA
Θέσεις εργασίας κοντά στο Thessaloníki, Dimos Thessaloniki, Θεσσαλονίκη
---

Deloitte Greece

Thessaloniki, Ελλάδα

OTHER

YOUR OPPORTUNITY · We are currently seeking for enthusiastic team players with exceptional analytical skills and a well-rounded personality to become part of our dynamic Audit team. · At Deloitte, we ...

---

CONDUENT

Thessaloniki, Ελλάδα

OTHER

About Conduent: · Durch unsere engagierten Mitarbeiter liefert Conduent unternehmenskritische Dienstleistungen und Lösungen im Auftrag von Fortune 100 Unternehmen und über 500 Regierungen - und schaf ...

---

Alstom

Thessaloniki, Ελλάδα

Leading societies to a low carbon future, Alstom develops and markets mobility solutions that provide the sustainable foundations for the future of transportation. Our product portfolio ranges from hi ...